1. MY CAR HAS BEEN TOTALED BY THE INSURANCE COMPANY!!!!!! And now we dance the dance of joy! HAPPY! HAPPY! JOY! JOY!
2. I get to get the vehicle I WANT thanks to #1. However, despite my love of the MINI Cooper, I will not be getting one. Two reasons: 1) Bear is bigger than the MINI Cooper and will not ride very comfortably in it. 2) After being rear ended by a LAND CRUISER, the idea of a smaller car is no longer appealing to me so I am now looking at the RAV4. Much roomier, higher off the ground and Bear will fit in it very comfortably.
3. I get to write the job description for the position I will be taking over full-time. I will also probably be getting the salary I asked for. I probably should have asked for more, but all in good time, my precious.
4. I sent this e-mail yesterday to TEARS, the animal rescue gruop that I got Bear from:
"Hi Melissa,
I've been meaning to send pictures of Bear for quite some time. I got him in August of '04 after reading his story on your website and it was love at first sight. He has been the best companion a girl can ask for and he is definitely the best dog in the world. I've attached some pictures of him for you to see and share if you would like. I can't imagine my life without him."
along with these pictures of Bear: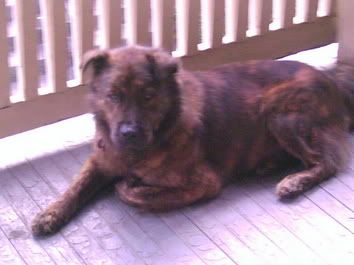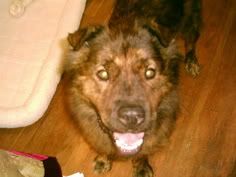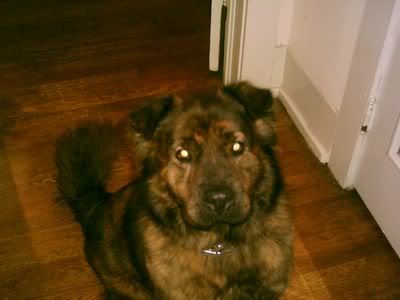 This is the e-mail I received from them today:
"Hi Grace,
You don't know me, but I used to be with TEARS and was one of the original volunteers who watched as Fuzzy/Bear basically grew up in foster care. I can remember him as an 8 week old puppy; so fat and cuddly. It always broke my heart to see him get passed over time and time again. I knew how absolutely wonderful he was, I just wish someone else could too. You will never know how happy it makes me to see photos of him inside a home and part of a family. He looks very happy!! Thank you for giving him such a wonderful home. I can tell by your email that you adore him. Melissa joined TEARS way after Bear came to us, so she doesn't share in the excitement as much as some of us. Here is Bear's former foster mom's email address. I know she would love to hear from you occasionally about him. She took care of him pratically his whole life before he became yours.
Thank you again!
Jennifer"
Warms the heart, doesn't it? It certainly made me feel special.
5. I finally got my income tax stuff from the ex and got it in the mail. I'll have a nice little refund check heading my way sometime soon and I've decided to blow the whole thing on NEW CLOTHES and I WILL NOT FEEL GUILTY FOR IT. I've lost quite a bit of weigh !YAY! and desparately need new clothes since I keep getting rid of the stuff that no longer fits me, but don't get anything new. WOO HOO!
6. I talked to Celeste yesterday about knitting some stuff for Moxie's and she said they wouldn't be taking any submissions until the fall so that gives me plenty of time to come up with some things to submit. I'm going to go for it. I have nothing to lose by doing it!
Things are definitely going my way.